Drugs gang member Robert Dalrymple's cash seized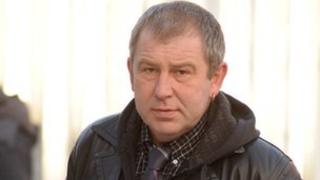 A third member of a drugs gang responsible for smuggling cocaine worth £40m into the UK has been made the subject of a cash confiscation order.
Robert Dalrymple, 44, formerly of Gretna, was sentenced to nearly seven years in prison in 2011.
He was found guilty of acting as a courier for the drug dealing operation between Spain and the UK.
A confiscation order for £51,000 was made against him at the High Court in Edinburgh.
Ringleaders Lindsay Harkins, formerly of Helensburgh, and Keith Blenkinsop, of Annan, have previously had £92,268 and £21,000 seized respectively.
Lindsey Miller, head of the Serious and Organised Crime Division (SOCD), said: "Robert Dalrymple was found guilty of acting as a courier for a drug dealing operation that stretched from Spain to Newcastle, Glasgow, Prestwick and Dumfries and Galloway.
"His conviction for the supply of illegal drugs means that he is deemed to have a 'criminal lifestyle' under the Proceeds of Crime Act.
"This entitles the court to assess the property gained by him for six years prior to the date of the offence, and to take his income and assets acquired over that period into account when calculating the total that he gained through illegitimate means."
The money will be put back into the community via the Cashback for Communities programme.