Unusual moisture found on medical tools at Borders hospital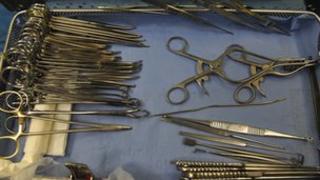 Unusual moisture found on surgical tools at Borders General Hospital has prompted an investigation into cleaning procedures.
The Area Sterilisation & Decontamination Unit (ASDU) was called after the discovery of liquid on several trays of instruments on 1 February.
The tools were returned to the ASDU and some procedures cancelled.
Tests showed the moisture was a lubricant and posed no risk to health.
Hospital staff were checking instruments prior to using them, when they noticed that some of the instruments had moisture on them which would not normally be there.
No risk
Arrangements were put in place with NHS Lothian to help with the sterilisation of surgical instruments for NHS Borders, while an investigation was carried out at the ASDU.
Following a review, Health Facilities Scotland, who oversee the monitoring of sterilisation units, said that the instruments were safe for use on patients.
The oil residue found on the instruments was caused by lubricant fluid, which is used to protect the instruments during the sterilisation process.
The liquid had re-condensed on the tools because of a new type of semi-permeable wrap put around the trays that did not allow the vapour to escape.
Tests are continuing, to identify a combination of wrap and oil that reduces the residue.
Cautious approach
Hamish McRitchie, associate medical director for the Borders General Hospital, said: "We were confident that there was no risk to patients as the moisture was not introduced from outside but formed during the sterilisation process and is not harmful.
"However, we have to be cautious which unfortunately meant postponing some procedures while it was investigated, but we did everything we could to keep this to a minimum."
"We have apologised to those patients whose operations have been cancelled, I am sure they understand why it was necessary."
Calum Campbell, NHS Borders chief executive, said: "It is because staff are so vigilant that this problem was noticed right away and the management team and staff acted quickly to address the issue and set the service continuity plans into action.
"We will, of course, make sure those people affected receive their treatment as quickly as possible once we have resolved the problem."
"Our staff, particularly in ASDU, Theatres and Estates worked very hard under very challenging circumstances throughout and demonstrated an unwavering responsibility to their patients."