Borders General Hospital inspection finds improvements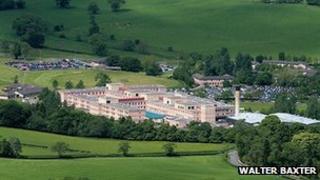 The Healthcare Environment Inspectorate (HEI) has found improvements in measures to help reduce infection risks at the Borders General Hospital.
It carried out an unannounced visit to the facility near Melrose in December.
In 2010, the HEI identified 13 requirements and four recommendations to improve services at the BGH.
However, the latest visit found it was meeting "most standards to protect patients, staff and visitors from acquiring an infection".
HEI chief inspector Susan Brimelow said: "The hospital was clean and well-maintained and staff were aware of their responsibilities in relation to infection prevention and control.
"We also identified some areas for improvement, however, including that cleaning schedules must be consistently completed.
"We expect NHS Borders to address these areas as a matter of priority."
Calum Campbell, chief executive of NHS Borders, said it welcomed the report.
He said the inspection team had found evidence that NHS Borders had worked hard to improve compliance with standards to protect patients, staff and visitors.
"Since the previous HEI report issued in 2011, it is clear that further progress has been made within the BGH and we are continuing to improve our policies and practices," he added.
"This latest report is a testament to the continued effort staff put in to making important improvements to the healthcare environment of our patients."
The full report is available to view on the HEI website.