Italy election: Thousands in UK study outcome of vote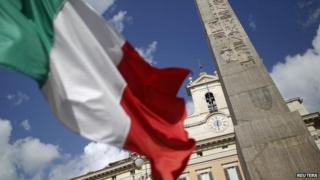 For thousands of people across Scotland and the rest of the UK these have been no ordinary few days.
Our eyes have been focused more firmly than usual on the land of our birth or that of our ancestors.
Italy went to the polls at the weekend in what felt like one of the most important general elections of recent times.
Many people living abroad who can trace their roots back there, such as myself, were entitled to vote.
My right to a ballot paper comes down my father's side of the family.
Although I was born and brought up in Scotland, his Italian nationality means I am also entitled to a passport and to vote.
That principle of the diritto di sangue - right of blood - is enshrined in Italian law.
It makes me one of millions across the world who are part of the Circoscrizione Estero - Overseas Constituency.
Our votes elect 12 members of the 630-strong Italian lower house the Camera dei deputati and half a dozen of the 315 elected to its upper house, the Senato della Repubblica.
It is not a decision to be made lightly or easily.
Italians abroad are justifiably proud of their cuisine, culture and sporting achievements.
But politics in the land my grandfather left behind is quite a different matter and can often seem a confusing business.
The sheer number of parties and how they group together into uneasy coalitions are baffling.
And, this time around, it looks like the outcome may have been equally bamboozling.
The bulk of the vote has been split between Pier Luigi Bersani's centre-left coalition, a centre-right grouping under Silvio Berlusconi, and the anti-establishment Five Star Movement led by comedian and blogger Beppe Grillo.
It has prompted speculation that it could end up with a hung parliament and Italy returning to the polls sooner rather than later.
It is not always easy, when living abroad, to get a genuine feel for how things might pan out.
My friends and family in Italy often tell me about the frustrations they feel at austerity measures, unemployment levels - particularly among the young - and the perceived ineffectiveness of politicians to run the country.
That seems to have produced a very fractured result, the impact of which will be felt much further afield than just in Italy.
It has a diaspora which stretches right around the world which will also be looking on intently.
For family reasons, property costs or simply just summer holidays we will await the outcome of negotiations following the vote with interest.
And then, being Italian, we will probably all disagree on whether the winner was actually the best choice to tackle the problems of the country we love.
Are you a resident in the UK entitled to vote in the Italian elections? Did you use the right and how important do you feel the outcome of this weekend's poll was for the country? Send your thoughts to giancarlo.rinaldi@bbc.co.uk.