Peebles' Kingsland Primary School hosts book launch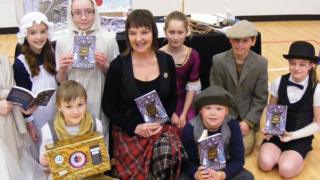 Kingsland Primary School in Peebles hosted a very special book launch recently.
Children's writer Janis MacKay visited the school with her latest book, The Accidental Time Traveller.
The story is set in Peebles and tells of the adventures of a young girl from 1812 who is transported two centuries to Peebles in 2012.
The first person she meets is a pupil from Kingsland Primary School.
Janis says she set the book in Peebles because she has relatives there, has stayed in the town and believes it is good to feature real places in her works.
Besides that, one of the main characters in the new book is based on her nephew who was, at one time, a pupil at Kingsland Primary.
As for time travel, Janis says, it's a romantic notion but, in researching what life was really like in 1812, there were so many things including basic sanitation and a wide range of foods that simply wouldn't be available.
"It would be really hard for us modern people to cope," she says.
In preparation for the book launch pupils at Kingsland created "time machines" and a number of them dressed in 1812 fashions.
They seemed to be keener on time travel than the author.
Some would like to go forward in time and try to bring back gadgets from the future whilst others would love to meet some of their ancestors.
For the moment, though, a time machine is still fiction rather than fact.