Dumfries and Galloway swine flu toddler 'fit to go home'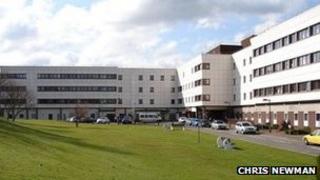 An 18-month-old child from southern Scotland diagnosed with swine flu is expected to be released from hospital.
The young boy is the second case of the H1N1 virus reported in Dumfries and Galloway in recent weeks.
Public health director Dr Derek Cox said doctors expected him to be fit to return home on Tuesday.
A 27-year-old woman from Sanquhar who contracted the virus remains in a critical but stable condition in a specialist hospital in Leicester.
Jennifer Scott underwent an emergency caesarean operation before being transferred to the Glenfield Hospital last week.
Her baby daughter is said to be doing well.
Dr Cox said the treatment should allow Ms Scott to make a full recovery.
"The treatment that she is on should give her good time for her own body to recover normally," he said.
"There is every possibility that she will ultimately recover from this."
He said the 18-month-old boy was likely to be released from hospital soon.
"When I spoke to the doctor who is looking after him earlier on today she said that she thought he was probably fit to go home today," he said.
Dr Cox stressed that H1N1 was circulating at "normal winter levels" in the region and throughout the rest of the country.
"These are not the first two cases that have occurred this winter and H1N1 is just what you might call 'normal flu' now," he explained.
"The main message is that this is normal for this time of year."