Dumfries curlers aim to reclaim world record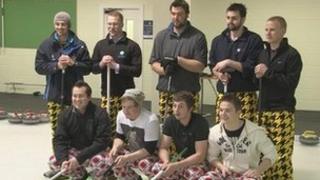 Ten south of Scotland curlers are seeking to reclaim the world record for the longest match ever played.
The Dumfries Ice Bowl team set a new record of 61 hours 39 minutes in March last year only to see it beaten by a group of Canadians.
The record now stands at 62 hours 15 minutes 25 seconds.
The Dumfries curlers will start their attempt at 19:00 on Wednesday and, if successful, should complete their efforts on Saturday morning.
Curling Development Officer Graham Sloan is part of the team.
He said fatigue was a major issue during their last attempt but believes they are better prepared this time around.
"We have certainly learned a lot of lessons from the first time round," he said.
"We have got the experience now of knowing where the difficult stages are going to be and what to look out for.
"Certainly everybody has been doing a wee bit extra fitness work along with their regular curling matches so I think we are certainly more prepared this time around and looking forward to the challenge."
The curlers are hoping people will turn out to support them during their marathon effort.
"We would like to say the time would pass quickly but I am quite sure at stages it will go really slowly," added Mr Sloan.
"But, again, we are ready for whatever we need to do to get to that time."
Anyone wishing to follow their efforts can also do so via a live internet stream.