Robert Burns statue square works face Chinese stone delay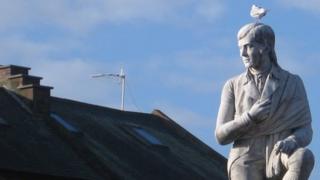 Plans to overhaul a Dumfries square which surrounds a statue of Robert Burns are facing a delay due to a hold-up in a delivery of Chinese granite.
The £1m facelift has been put back by three months - largely due to the extra time needed for the stone to arrive.
The work, which is expected to take up to 16 weeks to complete, is now scheduled to begin in May.
Labour councillor Jeff Leaver said he was worried about the wider implications of the new timescale.
"One of the key points about doing the work in February, as it was originally timetabled, until May was that we would avoid the most active part of the tourist season," he said.
"Now, because of the slippage - which seems to be largely due to delays in supplying cheap granite from China because of the bad weather there - it means we are actually going to be working on the key part of the town centre right across the tourist season.
"This could have a massive effect on retailers. We had the same problem with Friars Vennel, that the granite was delayed then which caused problems for traders down there several years ago."