Sheriff grants cider can case woman absolute discharge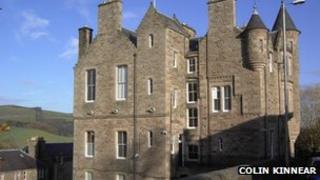 A sheriff has granted an absolute discharge to a Scottish Borders pensioner prosecuted for pouring a can of cider over her drunken husband.
Carole Horsburgh, 72, of Yetholm, admitted pouring the drink over her partner, pushing him and slapping him on the head.
Sheriff Kevin Drummond said police and the procurator fiscal were "deprived of discretion" but added that he was not.
He granted her an absolute discharge at Selkirk Sheriff Court.
The woman had been arrested on Monday and spent a night in police cells before appearing from custody.
The court heard that police and prosecutors had strict policy guidelines to adhere to in cases of domestic violence.
However, the sheriff told her: "You are 72 years old and have never been in trouble before.
"You have never had a previous conviction and you still don't have because I am granting an absolute discharge.
"It is unfortunate you had to go through what you had to go through but people charged with the responsibility of applying the law are told by others what they are to do."
The Borders pensioner had admitted committing the offence in her home on Monday afternoon.
Prosecutor Tessa Bradley told the court that the husband had been drinking at about 16:00 and an argument ensued and he accused her of having affairs in the past and mentioned a couple of names.
'Lost the rag'
The fiscal added: "She picked up a can of cider and poured it over him.
"She grabbed his clothing and slapped him on the head.
"She then stopped and went out of the living room to calm down."
She said the husband had called the police but had not been injured.
Defence lawyer Rory Bannerman said: "There is never an excuse for domestic violence but this is political correctness gone wrong.
"Here we have a 72-year-old with an unblemished record of good behaviour and has been the victim of difficulties with her husband whose behaviour gets out of control and she spends a night in custody."
Mr Bannerman said his client strenuously refused the allegations of affairs from a dozen years ago.
He added: "They have no basis in fact.
"She gave up smoking three weeks ago and was a little bit on edge and eventually lost the rag."
Mr Bannerman said that when police officers arrived and took the woman away, they had heard her husband crying as he realised what he had done.