Pat Watters gives fire service accountability assurance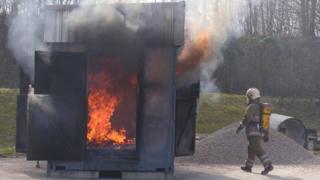 The chairman of the new Scottish Fire and Rescue Service has said there will be no loss of local accountability when services amalgamate on 1 April.
Pat Watters was in Dumfries inspecting a new £1.2m training centre on the outskirts of the town.
Scotland's fire and rescue services are set to merge into one single organisation on 1 April.
Mr Watters said the public in Dumfries and Galloway could be confident its concerns would be taken on board.
"I do understand, if there is any change at all, people are a bit wary of that change," he said.
"In a major change like taking the fire service from a local-delivered service that is in Dumfries and Galloway to a national-delivered service I can appreciate there are concerns."
However, he said he was confident the same service would be given to the region after 1 April.
"There will be no change, it will still be delivered by local firefighters from local stations delivering a service to the local community," he said.
"What we are doing at the present time is changing how we manage the service not how we deliver the service.
"We don't envisage seeing a major structural change in how we would deliver the service in Dumfries and Galloway - as a matter of fact I don't see any change in how we deliver the service to Dumfries and Galloway."
He said any changes would be in management and ways to make that more efficient.