A68 speed camera saw attacks continue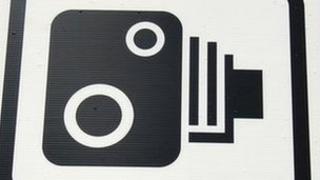 Two speed cameras have been attacked with a saw in the Scottish Borders - taking the total of such incidents in the region to six.
The latest incidents happened on the A68 at Huntford and Camptown over the weekend.
Police are treating it as theft, vandalism and attempting to pervert the course of justice.
Supt Denise Mulvaney described it as a "systematic campaign of violence aimed at safety cameras".
"The method used to attack the cameras is highly dangerous, the people responsible for these actions are putting their own lives at risk as well as the safety of others," she said.
"Anyone who comes into close contact with a camera that has been attacked in this fashion could be electrocuted.
"I'm urging any member of the public who has information they think might relate to any of the crimes aimed at safety cameras to contact the police."
As well as the saw attacks, speed cameras in the Borders have regularly been set on fire - with 19 such incidents since 2004.