Dumfries woman finds hairy scorpion in bunch of bananas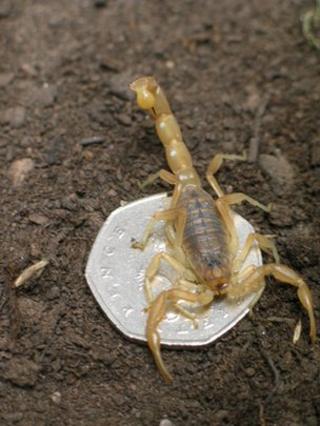 A woman called out the Scottish SPCA after finding a tropical scorpion in a bunch of bananas brought home from the supermarket.
The incident happened at a house in Trohoughton Avenue in Dumfries.
Animal Rescue Officer Tricia Smith collected the sand-coloured desert hairy scorpion.
It has been taken to the charity's Glasgow rescue and rehoming centre. The Scottish SPCA said a sting from the scorpion would be sore but not deadly.
Ms Smith said: "The lady was terrified when she called us, although she had managed to contain the scorpion in a jar.
"Desert hairy scorpions aren't deadly but if bitten the pain could vary from that of a bee-sting to intense inflammation and sickness.
"They're native to North America so it's likely this scorpion has come over to Scotland with the bananas."
She said the creature was probably quite young as it was only just bigger than a 50 pence piece.
Adults can reach up to six inches in length.
Ms Smith added: "We're hopeful we'll soon be able to find this scorpion a home with an experienced and knowledgeable owner where it can receive the care it needs."