Dumfries and Galloway street light turbine bid considered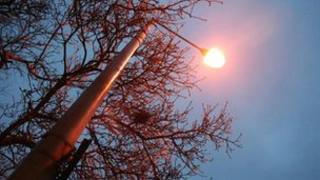 A council in southern Scotland is hoping to build a wind turbine to help reduce carbon emissions linked to street lighting.
Dumfries and Galloway Council is looking to take the project forward.
The authority-owned turbine would not power the lights directly but the electricity generated would be sold to the national grid and bought back.
It is estimated the plan could save the council nearly £6m over 20 years and meet carbon emission reduction targets.
Councillors have already agreed in principal to proposals for a 500 kilowatt turbine.
School grounds
A report to next week's policy and resources committee says 11 sites identified on council-owned land are not considered suitable for a development of that size, but might accommodate smaller schemes.
It says a recent installation of three vertical-axis turbines at Glenluce Primary highlights the possibility of using school grounds.
Officials also point to the possible legal, planning and cost problems in the council adding its own turbines to an existing, or planned, wind energy project.
However, they say there is potential in exploring the lease of sites from other landowners.
In addition, NHS Dumfries and Galloway has expressed interest in forming a partnership with the council in developing local wind power schemes.