Cheltenham betting operation in Hawick draws a blank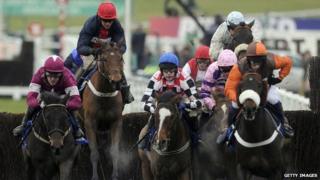 An operation in the Scottish Borders to target illegal betting during the Cheltenham Festival has found no offences taking place.
A number of licensed premises in Hawick were visited by police on Friday.
Insp John Scott said they were aware that there had been illegal betting at sites in the Borders in the past.
He said that although no offences had been found they wanted to "send a message" that such crimes would not be tolerated.
"At the same time, we want to provide licensees and patrons with reassurance that police are carrying out this activity in order to enhance their safety and security," he said.
"All of the licensees and patrons spoken to were positive about the police operation, and we fully intend to carry out further initiatives of this type in the future."