Extra Scottish Borders road upgrade cash considered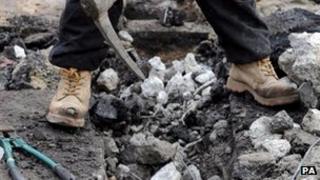 Scottish Borders Council's administration is recommending spending an extra £2m on maintaining and improving the region's roads.
It will seek approval for the funding - over and above its budget agreed in February - at a meeting next week.
Councillor Gordon Edgar said the council was aware of the issues caused by "severe winters and wet summers".
He said the programme of works being proposed would touch "every part" of the region.
More than half of the funding to meet the plans has come from the Scottish government and the administration decided it would be best spent on the road network.
As well as the road spending, the authority will also be asked to agree to spend £86,000 on housing aids and adaptations, £75,000 for additional play area funding and £60,000 to take forward the development of artificial sports pitches in various Borders towns.
The council will meet to ratify the proposals on 28 March.