Kirkcudbright vandalised gravestone repairs complete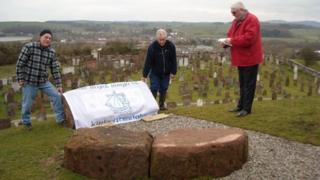 A ceremony has taken place to mark the restoration of dozens of headstones vandalised at a Kirkcudbright cemetery.
Two men were jailed for 35 months after causing more than £50,000 worth of damage at St Cuthbert's Kirkyard in June 2010.
Kirkcudbright Community Council launched a fundraising appeal which brought an immediate response from individuals and local groups.
A £33,000 Heritage Lottery Fund grant ensured the repair work could proceed.
Funding was also received from the Dumfries and Galloway Council's Stewartry Area Committee, the Kirkcudbright Common Good Fund and the Galloway Association of Glasgow.
Although the project was completed in December, it was decided to delay the formal ceremony - including the unveiling of a plaque - until 20 March, the feast day of St Cuthbert.
The cemetery is the site of the original Kirk of St Cuthbert, after which Kirkcudbright is named.
Kirkcudbright provost Lesley Garbutt said the community had been "outraged" by the vandalism but praised its fundraising response.
"Yet again Kirkcudbright has come up trumps and created something of value for the whole of our community," she said.
Councillor Patsy Gilroy said it was good to see the project reach a "successful conclusion".
"I am delighted that the damage to the kirkyard has been put right, and that access to the site and its history has actually been improved for local people and our visitors as a result of this project," she said.
"Out of something shocking has come something good."
Colin McLean, head of the Heritage Lottery Fund in Scotland, said it had been pleased to support the project.
"Churchyards give us a fascinating glimpse into the lives of those that played a role in the history of their community as well as being a place of sanctuary where people can enjoy a little bit of peace and reflection in their busy lives," he said.