Heavy snow causes roads and power disruption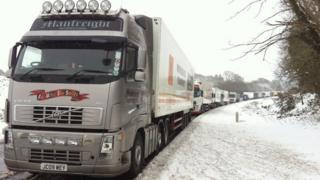 Thousands of homes will remain without power for at least another day as suppliers struggle to reconnect people cut off by heavy snow and high winds.
The Isle of Arran and parts of the south-west mainland of Scotland were particularly badly hit by power cuts.
Power companies are working with councils to send generators to affected areas while engineers have been working to clear routes and restore energy.
Their work was hampered by disruption to travel around Scotland.
A special ferry was organised to take six megawatts of generating capacity to Arran, enough to power 6,000 homes, while a further 5MW was being sourced to supply the rest of the island and 7MW was supplied to Campbeltown.
A spokesman for Scottish Hydro said: "We are still faced with very difficult access problems in Arran and the Kintyre peninsula.
"Two steel towers have collapsed under the weight of ice on the conductors near Crossaig in Kintyre.
Generators stuck
"We are making good progress in areas north and west of Kintyre and have restored a number of communities already. However, given the scale of the damage found, there will be isolated communities that won't be restored to power tonight."
About 5,000 customers in Kintyre will remain without power as generators being transported to the peninsula are stuck at Kennacraig and at least 1,500 homes in the north and west of Arran will also not be reconnected until at least Sunday.
Whiting Bay Hall and Auchrannie Spa and Country House, in Brodick on Arran, are open for residents with power, heat and refreshments, while Lamlash fire station is also open all day with power available through a local generator.
Gordon Hay, from the Achrannie Resort, told the BBC: "It has been quite a challenging time for everyone.
"We were quite fortunate here at the hotel - we have a lot of stock here, we can handle our staff and our guests and we are dealing with some of the locals as well.
"We have a lot of locals coming in for food and drink, but I think the main concern around the island is probably the lack of access to heat, light and power."
Other areas badly affected by power cuts are around Campbeltown and on the islands of Islay, Jura and parts of Bute, according to Argyll and Bute Council.
Snow drifts
"Contingency arrangements are in place to make sure that people have food, heat and are well cared for," the council said in a statement.
"Weather conditions have been challenging, with snow drifts of up to 15 feet and high winds."
About 18,000 properties suffered power cuts in Dumfries and Galloway, Argyll and Arran and a spokesman for energy provider Scottish Power said 6,000 homes were still off supply in the south-west, predominantly in the Wigtownshire area.
Driving conditions were also widely affected by snow and high winds, mainly in the south-west and north-east.
Some drivers on the A75 in Dumfries and Galloway spent the night in their cars and were given support by emergency services and the local mountain rescue volunteers.
One lane of the carriageway has reopened, but drivers in the south west are being urged not to drive unless travel is essential.
Colin MacKenzie, of trunk road operators Amey, said: "With further snowfall, strong winds and blizzard conditions forecast for this evening, we appeal to motorists not to travel unless absolutely necessary.
Routes treated
"Amey will continue to focus our front line efforts on treating affected areas to ensure roads are kept open wherever possible.
"Although all routes are treated, we cannot guarantee they are ice free and we again urge motorists to drive to the prevailing weather conditions."
Snow is expected to move out of the worst affected areas by Saturday evening, but low temperatures will remain.
The Skye, Kessock, Friarton, Tay and Forth Road Bridges all had speed restrictions in place because of strong winds, many ferry routes were disrupted and some train services were also cancelled.
Glasgow, Edinburgh and Aberdeen airports were all open - and flights were taking off and landing - but weather problems in other parts of the country meant delays and cancellations were likely.
The disruption led to a meeting of the Scottish government's Resilience Room to co-ordinate the response.
Transport Minister Keith Brown said: "According to the Met Office, the cold weather looks set to continue for some time yet, so our winter fleet of 130 vehicles will be working flat out across the weekend on the trunk road network to provide gritting and road clearing operations."
To access more information from your mobile, visit the BBC Weather and BBC Travel News sites.