Dumfries and Galloway police start farewell charity run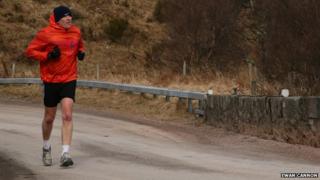 Five Dumfries and Galloway police officers have set off on a charity run around all the Scottish police headquarters before their merger.
They started out in Inverness before hopefully finishing in Dumfries after about 500 miles over four days.
They will visit Aberdeen, Dundee, Glenrothes, Edinburgh, the Scottish Police College, Stirling and Glasgow.
The runners are raising funds which will be split between four different charities.
Insp Stuart Davidson, Sgt Iain McKie, PC Andy Stevenson, PC Adam Watret and PC Iain Wishart are taking part in the event, dubbed the Run Doon Hame.
The money they raise will be shared between COPS (Care of Police Survivors), the Police Treatment Centre, Cash for Kids and Children in Need.
Insp Davidson said: "I can think of better things to be doing at the end of March but I'm sure it will end up being more fun than we think.
"We'll be taking it in turns to run through the night and when we get the chance to sleep, we'll be doing it in a camper van on the move.
"It's going to be non-stop."
They hope to raise at least £1,000 for each of their chosen charities.
Scotland's eight police forces are to amalgamate into one on 1 April.