Newcastleton attempts to tackle mobile 'not spot' issue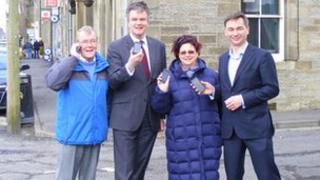 People who stay in larger communities probably take the ability to use mobile phones for granted.
But there are "not spots" in many rural parts of the country where signals are poor or non-existent, so talking, texting or surfing the net are a no-no.
One local community in the Borders has been chosen to pilot a new way of accessing mobile technology.
Open Femto might sound like a soft drink, but the system is being trialled in Newcastleton to ensure villagers and visitors now have access to a mobile phone network, and all that means.
Paul Morris of Vodafone says Open Femto uses existing broadband facilities rather than a large and fairly expensive mast.
Six small boxes have been attached to buildings in various parts of the village.
And, for the first time, the area has a reliable mobile signal for Vodafone customers.
The villagers in Newcastleton campaigned to be part of the new technology trial.
It has seen the base units installed at various locations to ensure coverage to residents.
Femtocells are usually used to deliver a private signal in your home if it is outside a coverage area.
However, they can also be used on a larger scale to cover small towns and villages.
Visitors disappointed
Amongst the campaigners for the service in the Borders was Barbara Elborn of the local business forum.
She believes local tradesmen will benefit by being able to order parts or materials on site, rather than making for a landline and that young people in the village will enjoy the ability to use devices their town counterparts have utilised for many years.
The area also draws a large number of visitors, for walking, cycling and to the annual folk festival.
And, Ms Elborn says, until now many have been disappointed that they could not send a text, call a friend or surf the net on their mobile devices whilst they were in Newcastleton.
Borders MP Michael Moore says, if all goes well, other areas could benefit.
He hopes the scheme will be successful and that other rural communities might be able to make use of the technology, expanding the mobile network coverage.