Death of golden eagle shot near Southern Upland Way 'a disaster'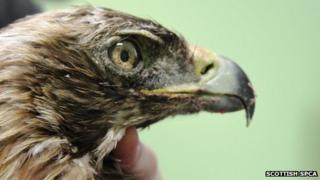 The death of a golden eagle shot in southern Scotland last year has been described as a conservation "disaster".
The bird was discovered by a member of the public near the Southern Upland Way in Dumfries and Galloway in October.
The Scottish SPCA made attempts to nurse it back to health but it had to be put down last month.
Ian Thomson, RSPB Scotland's Head of Investigations, said it was "sad news" for golden eagles in the area.
"This species is barely clinging on in the south of Scotland, so to lose an adult bird from this already tiny population is, in conservation terms, a disaster," he said.
"A bird from one of the very few breeding pairs in the area was killed in the Borders by illegal poisoning back in 2007, so the death of another adult bird puts the future of the species, in an area that should hold nine or ten pairs, in serious jeopardy."
It is feared the number of breeding pairs could now be as low as three.
A statement from the Scottish SPCA said the investigation into the incident was still ongoing.
It confirmed it had been unable to save the bird from succumbing to its injuries.
Ch Supt Mike Flynn said: "We are continuing to investigate after a golden eagle was found shot in Dumfries and Galloway in October last year.
"Despite extensive treatment, unfortunately the eagle had to be put to sleep on veterinary advice due to underlying health conditions.
"Anyone with information about this incident is urged to call our animal helpline on 03000 999 999 in strict confidence."