Penman Engineering in Dumfries pledge despite job cuts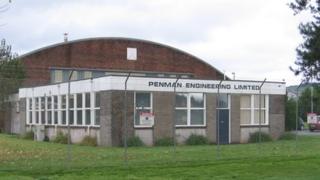 An armoured vehicle firm says it is committed to staying in the Dumfries area despite plans to move site and recent redundancies.
Penman Engineering held a public exhibition on plans for a major retail and community development at its Heathhall site earlier this week.
That was followed by news of 15 redundancies at the plant.
Spokesman Gary Parker said unions had been consulted and stressed there was no link between the two issues.
"It was just really a short-term correction," he said.
"It was really nothing to do with the event that they had on - it was just to do with the general economic downturn and, more specifically, the reduction in defence and security spending.
"Penman are committed to Dumfries and Galloway and, in fact, they would like to stay in the boundary of Dumfries."
The company has been in operation since 1859, evolving from a family business.
It currently employs more than 100 people at its south of Scotland site.