Richard Lochhead promises help to snow-hit farmers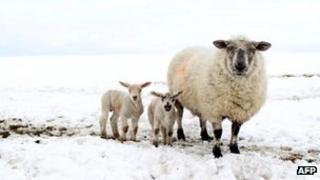 Farmers affected by the recent severe snow have been promised further help by the Scottish government.
Rural Affairs Secretary Richard Lochhead met with farmers to learn the extent of losses caused by storms in March following a difficult winter.
A total of £500,000 was previously pledged to help remove dead livestock from the hills.
Speaking at a farm near Gatehouse of Fleet, Mr Lochhead said more assistance was to come.
He met with farmers and representatives of NFU Scotland and the National Sheep Association at High Barlay farm.
"We recognise that these businesses have to remain viable - they are very important for this part of the country and elsewhere," he said.
"We need agriculture, we need farms, we need to produce food - so we have to help our sheep farmers in particular through these difficult times."
He said officials at the government were trying to "measure the impact and the devastation" caused by the snow.
"We will do what we can to help," he said.
"We are at the moment just counting the cost of the impact of this weather and of course the farmers themselves are still collecting the dead animals.
"So once we have got the information we need I want to help the industry recover from this and will make more announcements in due course."
NFU Scotland president Nigel Miller said the impact of the snow in areas like Dumfries and Galloway, Arran and Kintyre had been "severe".
He said the visit had brought Mr Lochhead "face-to-face" with the problems farmers were facing.
"As an industry, these are exceptional times and we believe that merits consideration being given to a one-off aid package," he said.
"A decision from the cabinet secretary and his colleagues in the cabinet on the shape of such a package is needed soon to allow businesses to plan ahead.
"A clear signal that support will be forthcoming could help pull businesses back from the financial problems they may face and give some certainty to those who may face discussions on cash flows and overdraft facilities with their bank.
"A package would also help relieve the pressure that is building up on many families within Scottish farming and help them see more clearly where their future lies."