Solway Firth cockle patrols stepped up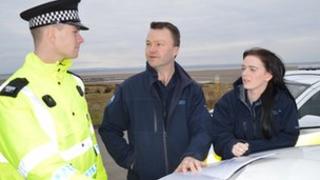 Police and Marine Scotland officers have stepped up patrols to tackle illegal cockling on the Solway Firth.
They have been targeting areas where the public has reported such incidents or where they have occurred before.
The shellfish beds in the area have been closed since September 2011 in a bid to allow stocks to recover.
However, there have been repeated concerns that this is being ignored and police said they were keen to take action to tackle the issue.
Pc Laurie Irving, one of the officers involved in the patrols, said: "The Solway has been a rich source of income for those who carry out illegal cockling and the force is keen to assist Marine Scotland to proactively patrol likely areas where the cockling occurs.
"We are also able to share information and intelligence about who is carrying out this type of activity, when they are doing it and where they are doing it.
"The public are a crucial part of this operation and we rely on their local information about what is going on in their communities."
A Marine Scotland spokesman said it had a "significant presence" in the area and was working closely with Police Scotland to address the problem.