Melrose and Galashiels stage homecoming soldier parades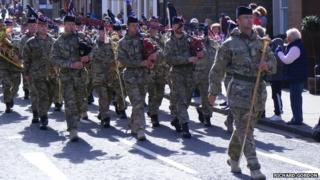 Soldiers from the 1st Battalion The Royal Regiment of Scotland have been welcomed home in the Borders.
They were parading through the town centre streets of both Melrose and Galashiels.
The soldiers have returned from a six-month tour of duty in Afghanistan's Helmand province.
Crowds lined the streets in both towns to welcome home the soldiers, many of them originally from the Scottish Borders.
Parking and traffic restrictions were in force in both towns to allow the parades to take place.