Dumfries and Galloway health incident improvements advised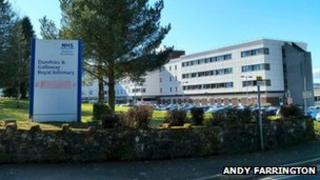 NHS Dumfries and Galloway has been advised to make a number of improvements in the way it handles serious incidents.
It follows a visit by Healthcare Improvement Scotland earlier this year.
It praised good practices in terms of staff engagement, communication and user-friendly incident reporting.
However, a report concluded more could be done in terms of involving patients, consistency of practices and ensuring timescales for such incidents were met.
In total a dozen different issues which need to be tackled were highlighted.
The visits by Healthcare Improvement Scotland followed a report on the handling of serious incidents at NHS Ayrshire and Arran last year.
It made a number of recommendations for both that health board and others across Scotland.
Its recommendations for Dumfries and Galloway are based on a site visit and analysis of evidence provided by the board.
The full findings are available in a report published online.
Hazel Borland, executive nurse director, said NHS Dumfries and Galloway welcomed the report.
She said it was already working towards the recommendations included.