Dumfries DG One centre: Court action starts over faults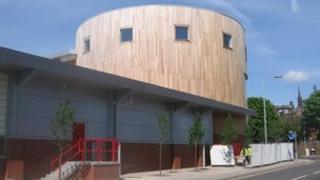 Dumfries and Galloway Council has formally initiated court proceedings to recover the cost of repairs to the DG One leisure centre in Dumfries.
Councillors approved the move in January and legal papers have now been lodged ahead of a May deadline.
The claim against contractors Kier Construction Limited has been assessed as a little more than £5m.
The company says it has always responded promptly to any faults in the building at its own cost.
The centre has been dogged by problems since opening - six months late - in 2008 and has already been closed several times for repairs.
Now technical experts for the council have identified a further list of defects and estimated the cost of putting them right at £3.7m.
The complex is likely to be closed to the public completely for four months from January 2014 with the swimming areas out of commission for 13 months beyond that.
The council is suing for the cost of the work, lost income and legal expenses.
In a statement, council leader Ivor Hyslop said the authority had been in correspondence with Kier Construction for some time to try to resolve the matter out of court.
However, he described the company's response as "inadequate" and said it was now appropriate to raise court proceedings.
The company has regularly said it was willing work with the authority to address any issues which were its responsibility.