Sir Walter Scott's Abbotsford to house Shirley Lowthian tribute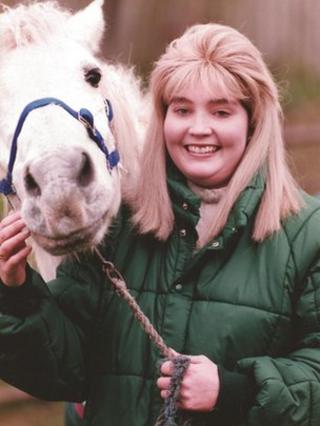 A lecture room in the refurbished former home of Sir Walter Scott in the Borders is to be named after a local woman who died from Hodgkin's lymphoma.
Shirley Lowthian, nee McCallum, of Selkirk, died in 1996 at the age of 25.
Her parents, Jim and Kath McCallum, have raised thousands of pounds for cancer charities in her memory and have written a book about her life.
Now they have pledged a "significant legacy" to the Abbotsford Trust to ensure she will "never be forgotten".
They have also gifted to the trust a late 19th century carved wooden panel featuring a bust of Sir Walter Scott which hung for many years in The Fleece Hotel in Selkirk.
The new room will be named The Shirley Ann McCallum Lecture Room.
Abbotsford House, near Melrose, is currently undergoing a multi-million pound upgrade to turn it into a "world-class visitor attraction".
The new learning centre will include an exhibition about Shirley's life.
Mr McCallum said: "We have spent 17 years relentlessly searching for the ideal memorial to our precious girl.
"I made a heartfelt pledge to Shirley - our only child - that she would never be forgotten.
"Through this new learning centre at Abbotsford, we believe we have found the ideal way to ensure that her precious memory will be treasured.
"Kath and I believe that by making this donation to Abbotsford, we will be creating a legacy for our daughter that will inspire others who learn about her and ensure she is remembered in perpetuity."
Jason Dyer, chief executive of the Abbotsford Trust, said it was "exceptionally grateful" for the donation.
"Shirley's story is exceptionally touching," he said.
"We hope that her parents will be comforted by the knowledge that their daughter's memory will live on here at Abbotsford, a place that would have been known to her and that has played, and will play, an important role in the future life of the Scottish Borders."
The new learning centre, including The Shirley Ann McCallum Lecture Room, will open later this summer following the opening of the historic house on 4 July.