Collapsed A708 Moffat to Selkirk road reopens to traffic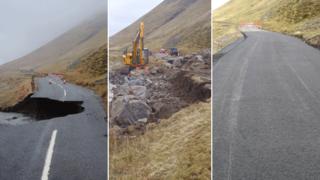 A Borders to Dumfries and Galloway link route which was shut after a large section collapsed into a stream has reopened to traffic.
It brings to an end a lengthy detour for drivers who would normally use the A708 Moffat to Selkirk road.
It was shut last week after part of the route near Grey Mare's Tail collapsed.
Following extensive engineering work, Dumfries and Galloway Council judged the road was in a good enough condition to reopen.
A diversion from Selkirk round Peebles and Blyth Bridge had been in operation.
'Remote location'
The collapse is thought to have been the result of subsidence caused by poor weather conditions.
Councillor Patsy Gilroy said she was impressed with the "energy and efficiency" of the authority's roads service.
"This was a major road slippage on a part of the A708 that is challenging to work on due to its proximity to the adjacent watercourse and its remote location," she said.
"Heavy machinery was on site within 48 hours and work continued despite rising water levels and over last weekend in order to open the road quickly for local motorists and businesses.
"We monitor this route regularly and have earmarked funds to spend on it over the next year."