Wood of Cree tree planting project ends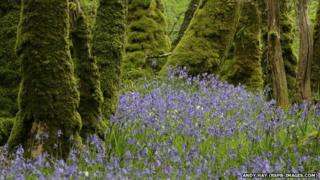 A six-year project to join up areas of native woodland in Dumfries and Galloway is set to end this month.
RSPB Scotland said the results of the planting of 200,000 native trees at its Wood of Cree reserve would not be fully visible for 50 years.
It was already the largest section of ancient oak woodland in the area.
Since 2007 volunteers have been planting new trees to "fill the gap" and link about 12 miles of woodland from Newton Stewart to Glentrool.
Andrew Bielinski, RSPB Scotland area reserve manager in Dumfries and Galloway, said: "This has been a monumental project that has involved hundreds of people over the years, and we're excited to see it coming to an end.
"Planting on this scale is going to make a massive difference to the woodland and help to secure the long-term future of vulnerable wildlife.
"We're grateful to everyone who has been involved, both the organisations who have gifted funding and the volunteers who have braved the weather.
"Here's hoping that in 50 to 60 years, when the woodland starts to mature, our children, and our children's children, will be able to come here and appreciate all that hard work."