By-law bid over dog fouling in Scottish Borders playing fields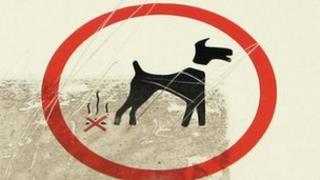 A Borders councillor is asking colleagues to support a bid to tackle the problem of dog fouling on sports pitches across the region.
Tom Weatherston, who represents Kelso, said the authority was in danger of "losing the battle" on the issue.
He highlighted the case of a rugby match which had to be called off due to the scale of the problem.
He has proposed the introduction of a by-law banning dogs from playing surfaces throughout the area.
The move will be discussed by a full meeting of Scottish Borders Council.
"I am not looking to ban dogs from the entire park but I think at least if we have the dogs off the playing surface it would help greatly," he said.
"I can always remember falling on the stuff when I played rugby with the school.
"It's a horrible experience and we shouldn't let children anywhere near it."
He said he accepted it would not be easy to police the by-law.
"The way things stand just now if the police are driving past the park and a dog is on the pitch - on the playing surface where the children play - they are not doing anything wrong," he said.
"At least this would give the police a bit of kit to say: 'Look, you're breaking the law here, the dog shouldn't be on the playing surface'."