Dumfries and Galloway library cut plans condemned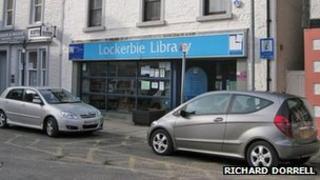 A trade union has condemned plans for cuts at customer centres, libraries and registration services across Dumfries and Galloway.
Unison says the move would have a "hugely damaging" impact on frontline services to communities.
It has also raised concerns about staff facing job losses as part of a bid to reduce spending.
A council spokesman said workers had been provided "full information" about the plans at a series of meetings.
The union has warned of the equivalent of nearly 20 full time posts being lost and a reduction in opening hours.
David Stainthorpe, Unison branch secretary, said: "The savings proposals approved by councillors have not been thought through properly, particularly on the detrimental impact to vital services in local communities.
"Unison is committed to working with the council to provide alternatives.
"We expect full and open transparency throughout this formal redundancy process and will challenge any job cuts where these are simply for expediency or are financially unjustifiable."
A Dumfries and Galloway Council statement said it had been working with human resources over the past four months on changes to be made in the current financial year to deliver a saving of £126,000.
It said the formal 30-day consultation period on the plans began on 17 May.
It also contested claims that opening hours would be reduced at some sites and disputed the level of job reductions being suggested.
The council said that no compulsory redundancies would be required but that a number of early retirement applications were being considered this week.
It said there was also likely to be some redeployment of staff.