Iona pilgrimage passes through Borders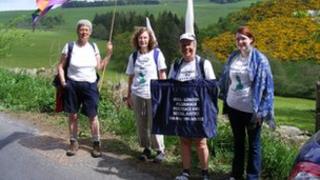 Walkers on a modern-day pilgrimage have travelled through the Borders en route from Iona to London.
The party, which varies in number as people join and leave on various stages of the trek, are campaigners for peace and social justice.
They say they are visiting historic centres of prayer, like Holy Island, to draw strength for their onward march.
The walkers describe their lengthy journey as an "act of witness for peace and social justice".
One of the pilgrims, Kath Macdonald from Newstead near Melrose, said that, so far, most people they had encountered on their walk had been supportive of their aims.
The group set off from Iona on the 19 May and is scheduled to arrive in London on 19 July.