Dumfries and Galloway Council submits March snow claim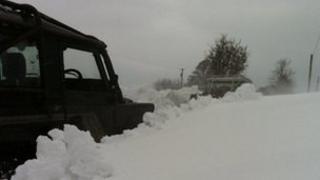 Dumfries and Galloway Council has submitted a £1.7m claim for costs in coping with severe snowfalls in March.
An application has been made to the Scottish government under the Bellwin Scheme for financial assistance during emergencies.
The west of the region was badly affected by snow along with other parts of the country.
The council is seeking to recoup the money it spent clearing routes and repairing damaged roads.
Planning committee chairman Ian Carruthers said that while the claim would cover the authority's expenses, the efforts of countless volunteers who helped those stranded or at risk had been truly invaluable.
"It was a phenomenal effort at the time, everybody pulled together," he said.
"It was fantastic resilience which was shown and they addressed the problems as soon as they could.
"How do you actually put a price on that? It is very difficult to do."