Sorbie Primary school faces permanent closure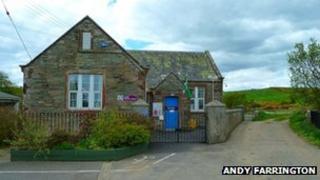 A south of Scotland school which has had no pupils since April is facing permanent closure.
The primary at Sorbie in Wigtownshire is currently mothballed while a decision is made on its future.
Since 2004, the school has shared a headteacher with Garlieston Primary under a partnership arrangement.
In September last year, there were five pupils at Sorbie, but numbers fell steadily, with the last remaining pupil relocating to Garlieston in April.
A report to next week's meeting of Dumfries and Galloway Council's education committee, says it appears parents took the decision to move their children to Garlieston because of concerns about the potentially negative social impact of a low school roll.
The Sorbie building has since been made secure, any equipment moved out, and remaining teaching and administration staff relocated on a temporary basis until a decision is made on its future.
Officials said there had been no further placement requests since April and a review of the projected demographics indicated no future demand.
They have suggested the start of a formal consultation with the local community on closing the school for good.