Moffat cigarette thieves strike store for second time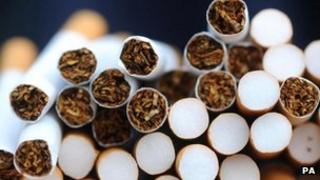 Police are appealing for information after a second cigarette theft from a Dumfries and Galloway petrol station in the space of a week.
The Benmar Filling Station in Moffat was targeted at about 01:40 when two men were seen breaking in.
The incident came exactly a week after a similar raid on 12 September when cigarettes worth £3,000 were taken.
Police said the value of the latest haul was not known but a large amount of goods had been recovered nearby.
It is believed the two thieves may have been scared off by a security alarm.
Descriptions of both men have been issued by the police.
The first man is aged between his late teens and early 20s.
He was wearing a dark grey hooded top with dark stripes, a hooded top with a large red logo on the front and dark trousers.
The second man was wearing a black hooded top with white stripes on the sleeves.
It had a large grey stripe from the centre of the hood right down the back.
He was also wearing blue tracksuit bottoms with lighter blue stripes on side.
Police are particularly keen to trace the driver of a small, red car seen travelling north out of Moffat on the A701 at about 01:50.