Dumfries hospital doctors miss hand hygiene target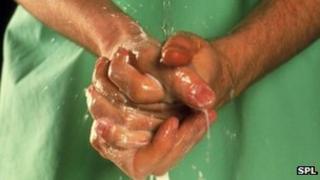 NHS Dumfries and Galloway has expressed its disappointment at its latest infection control figures.
They showed that doctors at Dumfries Infirmary were still failing to meet basic hand hygiene standards.
Clinical staff in the hospital have a hand-washing compliance rate of 76% while the Scottish government's minimum target is 90%.
All other health workers are performing above the standard. Improvements are being sought to the figures.
The poor record of medical staff was first highlighted almost two years ago.
They showed a hand washing compliance rate of 86%.
Nurse Director Hazel Boreland said: "What we need to acknowledge is that we have got individuals and disciplines and teams that always need to think about how they could do this better.
"I am keen not to just focus on a single discipline but to focus on how we can we do this better as teams."
She said it was about encouraging people to do the "right thing at the right time".
"What are the reasons behind people not always washing their hands when we think that they should be and the evidence tells us that?" she asked.
"Do we need to provide more hand gel? What do we need to think about as we move into planning for the new Dumfries and Galloway Royal Infirmary?
"What is it that we need to do to make sure that it is easy for all our staff, whoever they are, to do the right thing all of the time?"