New West Linton Primary School opens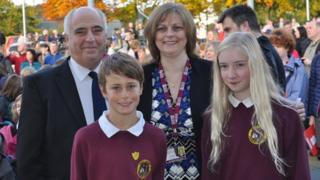 A new primary school which cost £9m to construct has opened in a village in the Scottish Borders.
A pipe band led pupils and staff from the old West Linton Primary school to the new building.
A ribbon-cutting was carried out by the two oldest children at the school - P7 pupils Rory Darling and Natasha Thorp - along with councillor Sandy Aitchison.
He described it as a "state of the art" school which would benefit children in the area for "years to come".
"The council has invested a significant amount of money in these first class facilities, which will provide an excellent learning environment for the pupils who are incredibly excited about their new surroundings," he said.
Head teacher Hilary Elliott said everyone was delighted with the new building.
"The children had high expectations regarding what they wanted their new school to provide and they communicated their ideas clearly at the beginning of the process," she said.
"They said they wanted a bigger school with bigger classrooms, more smartboards and lots of natural light; they wanted a library, bigger cloakrooms, a bigger playground and a football pitch they could access every day.
"The children have got what they asked for and they, and all staff, now look forward to enjoying the many benefits this wonderful new learning environment provides."