Peebles chocolatier Ruth Hinks chases world title dream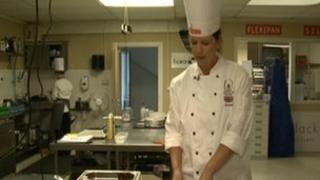 A chocolatier from the Scottish Borders is aiming to become the UK's first winner of the World Chocolate Masters.
Ruth Hinks, from Peebles, is one of 20 competitors seeking the prestigious crown in the two-day challenge which is under way in Paris.
It is the fifth edition of the competition which has been held every two years since 2005.
Previous winners of the chocolate masters have come from Belgium, Japan and the Netherlands.
Day one of the competition sees the chocolatiers given three hours to put together a showpiece work standing between one and two metres tall.
On day two, they must produce two gateaux, eight plated desserts, 50 moulded chocolates, 50 dipped chocolates and decorate a globe in chocolate.
All of that has to be achieved in the space of eight hours.
Judges will then decide who has earned the right to be crowned World Chocolate Master 2013.