Barnacle goose swaps Scotland for Spain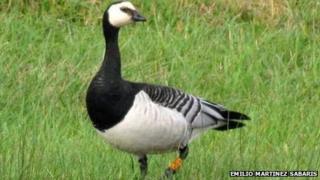 A barnacle goose which failed to turn up at its usual wintering grounds in southern Scotland has been traced near Vigo in northwest Spain.
Wildfowl and Wetland Trust staff at Caerlaverock said it was the furthest south one had ever been recorded.
The goose had migrated safely from the arctic Svalbard to Scotland for six years before being absent last winter.
When it failed to turn up this year it was thought it had died but the bird was found "sunning himself" in Spain.
Every year tens of thousands of the birds make the trip from the arctic to the Solway Firth.
However, the adult male identified by an orange leg ring with the letters CBZ - has shunned southern Scotland this winter.
Birdwatcher Emilio Martinez spotted the goose this week in the sunshine of the Rouxique marshes near Vigo on northwest Spain's Atlantic coast.
Fellow birdwatcher Antonio Gutierrez reported the goose's leg ring, which identified it as an adult male ringed by WWT at Caerlaverock Wetland Centre in 2004.
Dr Larry Griffin, WWT principle species research officer at Caerlaverock, said: "We're gobsmacked.
"Barnacle geese have a tough life facing extreme weather and food scarcity so we had started to assume this one hadn't made it.
"To find out he's actually made a record journey south and been sunning himself in Spain is amazing."
Bad weather
He said ringing the birds allowed researchers to find out where they go and where they might need further protection.
"We're hugely indebted to birdwatchers like Emilio and Antonio who record the leg rings they spot and let us know where the birds have got to," he said.
"It's possible that orange CBZ was disoriented by the recent bad weather.
"He'll need to rest and feed himself up after such a long journey.
"Once he leaves Spain, we'll be keeping a special eye out to see if he returns to the Costa del Solway."