Devil's Beef Tub wind farm opposed again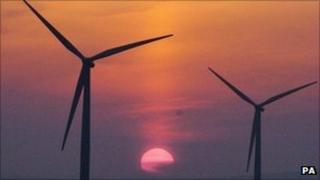 Amended proposals for a wind farm near the Devil's Beef Tub in southern Scotland have failed to find favour with councillors at the third attempt.
Revised plans from Wind Energy Ltd at Earlshaugh were discussed by Scottish Borders Council.
An original bid for 36 turbines was put forward in 2007 and that was scaled back by a third four years later.
Fresh proposals for 22 turbines were on the table but councillors decided to oppose them once again.
The authority will tell the Scottish government, which has the final say on the scheme, that it is still unacceptable due to the visual impact on the landscape.
The company says the site "presents a major opportunity to harness an excellent wind resource in the Scottish Borders" as well as help to meet national renewable energy targets.
It has also said it could benefit the local economy to the tune of £4.8m.
However, that argument failed to convince councillors in the Scottish Borders to give it their backing.
The area near the turbines, the Devil's Beef Tub, owes its name to its historical use as a site to hide stolen cattle.