Corsock man John Hills detained after cutting wife's throat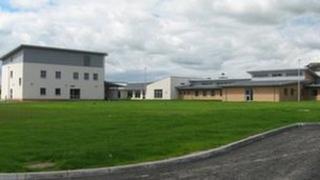 A former Royal Navy submariner who cut his wife's throat with a knife has been ordered to be detained in a high-security psychiatric hospital.
John Hills, 48, struck his spouse Karen during the attack at their home in the village of Corsock in April.
He was acquitted of assault after prosecutors accepted he was suffering from a mental disorder at the time.
Lord Doherty ruled that there was sufficient evidence that a restriction order was necessary.
A court had previously heard how Hills' wife had become concerned about his behaviour as he spoke about rumours being spread about him and a conspiracy against him.
He subsequently attacked her at their home in the village of Corsock, near Castle Douglas, on 4 April this year.
He later admitted to police that he used the knife to deliberately harm his wife by cutting her twice on the throat and then turned the weapon on himself.
Hills, an ambulance call handler, was charged with assaulting his wife to her severe injury, permanent disfigurement and to the danger of her life.
However, he was acquitted of the charge after psychiatrists said he was suffering from a delusional mental disorder and the Crown accepted, on the basis of medical information, that he was lacking criminal responsibility.
A judge told Hills at the High Court in Edinburgh that he was satisfied on reports and evidence that he should make a compulsion order and a restriction order in his case.
Hills defence counsel, Susan Duff, told Lord Doherty: "He has sufficient insight to recognise why such orders are appropriate and understands the need for them."
A psychiatrist told the court that Hills required to be detained under conditions of special security which could be met at the State Hospital at Carstairs.
The court heard that Hills had held delusional beliefs but that progress was being made.