Borders to Edinburgh rail and road route revision agreed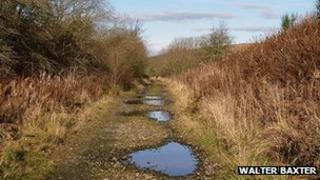 Changes to a section of the road and track layout on the Borders to Edinburgh railway have been approved.
It means a double roundabout on the A7 will not need to be built.
The road will continue to run close to its current route, with the railway passing underneath the road to the south of Falahill.
Residents had voiced concerns about being sandwiched between the A7 and the new railway but Scottish Borders Council agreed to the revised layout.
The planning committee was also asked to ensure the rail bridge over the A7 at Falahill could carry double tracks.
The plea came from the Campaign for Borders Rail, who said it would "future-proof" the line, and allow for expansion at some point in the future.
However, officials advised that councillors could not consider the matter as part of the planning application.
The railway will re-establish a passenger rail link between Edinburgh and the Scottish Borders for the first time in more than 40 years and is scheduled to reopen in 2015.