Selkirk and Kirkcudbright make transformation moves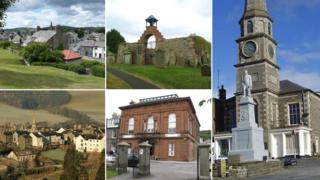 Plans to redevelop the historic centres of two south of Scotland towns have taken significant steps forward.
In the Borders, a £1m regeneration scheme has been officially launched for Selkirk's conservation area.
Owners of old buildings in the zone will be able to apply for assistance to improve them.
In Dumfries and Galloway, a project to overhaul key public buildings in Kirkcudbright has secured cross-party council support.
The Selkirk programme is a five-year initiative which will also include educational events and workshops.
Grants will be offered towards repairs for seven historic buildings.
Colin Gilmour of the Selkirk Regeneration Scheme said: "All the priority buildings that we have are projects that will develop over time.
"It is not something which we force the building owners to take up.
"So it is really a conversation that we have to have initially to develop these projects further so we can find out if it is actually feasible to do a repairs grant project."
In Kirkcudbright, a £3.5m strategy - which includes plans to turn the town hall into a major art gallery - has received council support.
The blueprint for the future of publicly-owned buildings in the "artists' town" emerged from a local survey.
The findings were used by the Kirkcudbright Community Trust to draw up a charter identifying which properties should be retained and how they could best be used.
Dumfries and Galloway Council has now pledged its backing for the project.
The authority has earmarked potential funding of £615,000 to support a bid for Heritage Lottery cash to meet the costs of creating a permanent art gallery in the town hall.
The plans also involve refurbishing the former Johnston Primary School to accommodate a public "hub" incorporating library, registration and customer services as well as providing a community meeting place.
The capital costs of the redevelopment projects would be offset by receipts from the planned sale of the former St Cuthbert's School, the library rooms in the sheriff court house and the old bank building in Daar Road.