Dumfries and Galloway arts network seeks 'fresh start'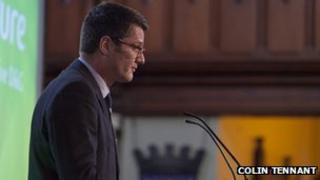 A new structure for supporting the arts in Dumfries and Galloway has been unveiled in what is described as a "genuinely fresh start".
About 150 delegates attended a conference in Dumfries to discuss the changes.
Cathy Agnew, who chairs the region's arts partnership, said it was based on an "entirely new model".
A Chamber of Arts - largely made up of volunteers - has been created along with arts "hubs" across the area.
The hubs will see local artists and creative organisations come together, on a voluntary basis, to identify the economic and educational opportunities for their area.
Ms Agnew said the approach would allow more people to enjoy and be involved with the arts.
The dgArts organisation, which used to provide support in the region, ceased trading in September 2011.
The aim of the new set-up has been to find an alternative model for arts leadership, which "gives a leading role to artists, is sustainable and is light on bureaucracy".
Ms Agnew said: "Dumfries and Galloway is an extraordinarily creative place and we are bringing about a step-change which will allow more people to enjoy and be involved with the arts.
"We will also be working hard to raise the profile of the region's arts at a national and international level.
"This conference is a chance for the region, and delegates from elsewhere, to find out more about what we hope to achieve.
"With the arts facing rapid change, and a harsh funding environment, we are getting a great deal of interest from other parts of Scotland, many of which are keen to learn from our model as they seek to create a sustainable future for the arts in their own areas."