Toy bank found in Peebles attic sells for £160,000 at auction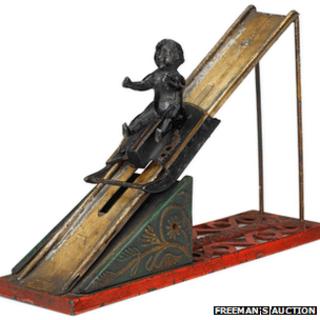 A rare toy bank found by a woman clearing out her mother-in-law's attic in the Borders has sold for more than £160,000 at auction in the US.
The Coasting Bank - thought to be the only one in existence - drops coins into a slot via a child on a sled.
Edinburgh auctioneers Lyon & Turnbull identified it as American-made and suggested it was sent there for sale.
It paid off as it went under the hammer at Freeman's in Philadelphia for nearly nine times its estimated value.
The item's owner - who has not been identified - found it in her relative's house in Peebles.
She took it to a filming of the BBC programme the Antiques Roadshow where specialists immediately identified its potential value.
However, the final amount paid exceeded the auctioneer's expectations.
"We were thrilled with the price the Coasting Bank achieved," said the head of Freeman's Americana department Lynda Cain.
"It came to us in very good condition, and it caused quite a stir among collectors."
The bank has been attributed to toy designer Charles A Bailey.
He worked for the J&E Stevens Company from the 1880s to about 1915 and was responsible for a large number of mechanical banks.