Dumfries and Galloway alcohol 'overprovision' action agreed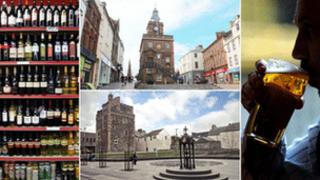 Dumfries and Galloway's four licensing boards have agreed to a string of recommendations to curb "overprovision" of alcohol outlets in the region.
The move ensures that future licence applications would have to justify any increase in capacity.
It has been estimated that the cost of dealing with drink-related harm in the region is £14m-a-year.
Health experts had raised concerns about the number of alcohol outlets in Dumfries and Stranraer town centres.
NHS Dumfries and Galloway had urged the Nithsdale and Wigtown licensing boards to agree with its statistics suggesting that there were too many off sales and pubs selling alcohol in the areas.
That view was backed by the region's Alcohol and Drugs Partnership.
Nithsdale and Wigtown councillors have now conceded there would have to be "robust reasons" for allowing any more licensed premises in either town.
However, they asked that they were allowed to decide applications on individual merit.
The move is part of a three-year review of the local authority's licensing policy.