Scottish Borders Council probes pensioner's wheelchair fall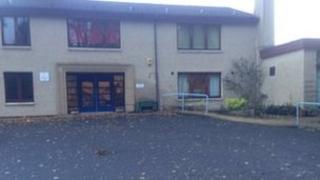 An investigation is under way after a pensioner suffered a fractured skull when her wheelchair fell from a minibus outside a Borders care home.
Margaret Bell, 75, of Galashiels, was being taken off a mechanical lift at the town's Oakview Day Centre.
Mrs Bell's husband, John, said the accident was "frightening" and "should not have happened."
Scottish Borders Council said it was investigating the incident to ensure it could not be repeated.
It happened on the morning of Thursday 14 November, and Mrs Bell has been in the Borders General Hospital since then.
She fell three feet to the ground and struck her head on concrete outside the day centre.
As well as a fractured skull she suffered several cuts to her head and the driver who was helping to take her off the bus also suffered a leg injury.
Mr Bell said: "I am not entirely sure what happened as there is an investigation ongoing and Margaret cannot remember.
"But it is frightening what has happened - it should be impossible for the wheelchair to come off the lift .
"She could have been killed - the accident should not have happened."
However, he said the fact that an inquiry was being held would hopefully mean it would not happen again.
A spokesman for SBC, which operates the day care service, said: "This accident at Oakview Day Centre in Galashiels was very distressing for the elderly lady, her family and the driver involved.
"SBC is investigating the accident and reviewing risk assessments and procedures to understand what happened.
"In the light of the findings, we will ensure that the necessary changes are made so that this does not happen again.
"SBC will continue to offer all the help and support it can to the family."