Injured Jedburgh kitten 'thrown from car'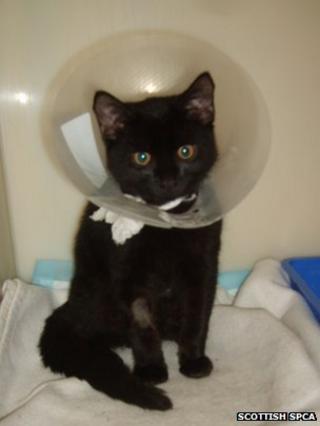 The Scottish SPCA is investigating after a kitten was found in the Borders with injuries consistent with being thrown from a moving vehicle.
The five-month-old male kitten was found on Friday outside a block of flats on Howden Road in Jedburgh.
Senior Inspector Jenny Scott said it was "visibly shaking" and "absolutely terrified" when it was discovered.
The kitten, which has been named Jack, is currently being treated by vets for the injuries it received.
"Although we can't say for certain what happened to Jack, the vet has advised his injuries indicate he was thrown from a moving vehicle," said Insp Scott.
"His claws were worn right down, his paw pads were open and bleeding heavily and he had a bald patch on his tummy with a scuff mark, possibly from where he hit the ground.
"Jack is currently on pain relief and is continuing to receive the treatment and care he needs at the vets."
The charity is keen to hear from anyone who recognises the cat or knows what may have happened to it.