Burnfoot community pub 'hub' plans secure £1.2m boost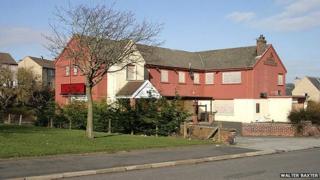 Plans to create a community "hub" in a disused Borders pub have secured a £1.2m grant from the Big Lottery Fund.
The money will allow the former Roadhouse pub in the Burnfoot area of Hawick to be brought back into use.
It is one of eight Scottish projects sharing £3.6m in the latest grants.
Richard Knight, who chairs Burnfoot Community Futures, said it would not only transform a local eyesore but also change the lives of residents by bringing back vital services.
Maureen McGinn, who chairs the Big Lottery Fund Scotland, said: "Our aim is to support people and communities in greatest need.
"In Burnfoot this community hub will provide a much-needed focal point for local people to access community activities and services based around their needs."
Mr Knight said his group was "absolutely delighted" with the grant.
"We really see the hub as the start of a new beginning in Burnfoot," he said.
"It will be a place run by the community for the community, offering a wide range of opportunities ranging from informal social gatherings to formal volunteering and work placements.
"Burnfoot residents have a lot to look forward to once the hub has been renovated and open for business."
The other groups and projects to benefit in the latest round of awards are:
Thenue Housing Association (THA), Glasgow - £445,570
Maryhill Burgh Halls - £193,938
C-Change Scotland - £560,412
Coatbridge College, the Caring for Carers Partnership - £560,412
Lanarkshire Action on Mental Health (LAMH) Recycle Ltd - £453,608
The LGBT Healthy Living Centre, Edinburgh - £421, 964
Midlothian Council vocational opportunities for young people project - £76,272