Borders to Edinburgh railway: timetable 'broken promise' claim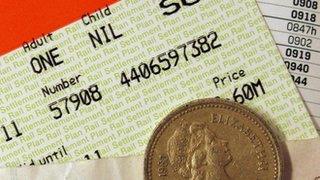 A campaign group has claimed Transport Scotland has "reneged" on promised maximum journey times on the Borders to Edinburgh railway.
It comes after a draft timetable was issued for consultation this week.
The Campaign for Borders Rail (CBR) has voiced its anger at the number of services taking longer than 55 minutes to complete the journey.
Transport Scotland said 98% of journeys would be under one hour with room for "more positive timetable solutions".
CBR chairman Simon Walton said journey times of 55 minutes or less had been promised between Tweedbank and Edinburgh since 2009.
He said failure to meet that target would reduce the ability of trains to "compete with the car".
"On Mondays to Fridays, no fewer than 26 out of 33 trains from Edinburgh to Tweedbank will take longer than the promised 55 minutes," he said.
"Journey times will average 37mph - fine during the peak hours when traffic congestion hampers car speeds in and around Edinburgh - but just not good enough at off-peak times when the roads are much clearer.
"On Saturdays, a paltry two out of 33 trains to Tweedbank will achieve the maximum 55 minutes laid down by Transport Scotland in 2009."
He said CBR believed that the timetable included "padding" to compensate for service unreliability due to a reduction in double-track provision on the route.
"We all want the Borders Railway to be as successful as other rail route re-openings in Scotland, but there is now a serious worry that short-termist thinking will hamper what could and should be an exemplary train service," he said.
"We need a strategic vision from Transport Scotland instead of broken promises."
'Existing stock'
A Transport Scotland spokesman said the services would bring "employment, economic and social benefits" to the Borders and Midlothian.
"Over 98% of the journeys will take passengers from one end to the other in under an hour," he said.
"The draft Borders timetable offers two trains per hour with a fastest journey time of 54 minutes.
"This was based on existing rolling stock in the current fleet.
"We have encouraged bidders for the next franchise to come forward with even more positive timetable solutions offering improvements in journey times in line with passenger expectations."
He said consultation on the draft timetable was under way with key stakeholders by ScotRail, and they would report back to Transport Scotland with the results next month.
Work should be completed on the Borders to Edinburgh railway by 2015.